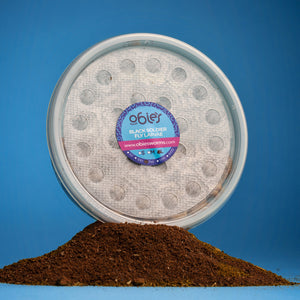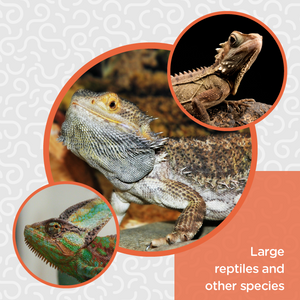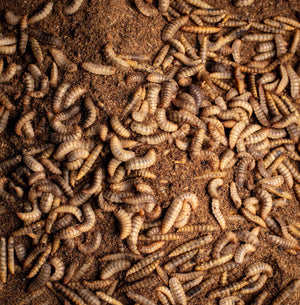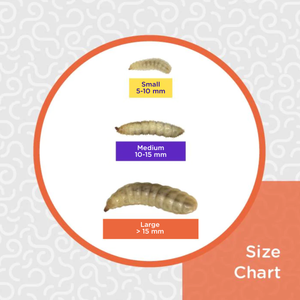 Our black soldier fly larvae (BSFL) are a nutrient rich protein and calcium food staple for your pet. Obie's live BSFL (Hermetia illuciens) contain >5500 ppm calcium, >50% protein (dry weight) and a Calcium to Phosphorus (Ca:P) 1.25:1 ratio which is near ideal for insectivores. BSFL also contain all the essential nutrients your insectivore needs.
Obie's BSFL don't chirp, and don't require dusting or gut loading. Simply feed them directly to your pet when they arrive, and store them in a cool, dark environment.
Obie's large BSFL are >15 mm in length and weigh between 13-25 mg. They are ideal for beardies, frilled and water dragons, skinks, large chameleons, any larger lizard species, and adult hedgehogs.
Obie's BSFL are locally raised in Halifax, Nova Scotia. We don't import expensive feedstock for our insects, we use pre-consumer organics from sources like local breweries, to feed and grow our black soldier fly larvae. The result is a protein that isn't just sustainable, it's also a nutritious staple for our insectivore pets and yours.
Obie's large BSFL are available in the following quantities: 100, 250, 500, 1000, 2500, 5000.
Highly recommend
I have a subscription for a large order of Obies BFSL, that ships every 3 weeks from Nova Scotia to BC within 4 days. The worms arrive as fresh as can be, and are nice and big, and juicy! (my dragons words, not mine). Obies has become a staple in our household. I highly recommend them for your critters - there won't be any complaints!
Great quality and great service. I've never had to worry about my orders from Obie's Worms. My bearded dragon is one happy lizard!
We love all feedback, but happy lizards is the BEST feedback!
Best leopard gecko food
Amazing quality every time! My leopard gecko loves them
Thanks, Tabitha! We take pride in working hard to produce a nutritious, high-quality quality product that all pets will love!
Happy Beardie
I've never had issues with shipping or quality. My boy loves his bsfl!
This is the fantastic to hear. We're proud of the dedication shown by our team, and it's all worth it when we hear about happy, well fed pets ❤️